There are many different types of developers in the active adult community business, from pioneers like Del Webb that deal solely in retirement communities to independent developers, from developers of manufactured homes to developers of traditional homes who are exploring the active adult market because of aging customers.

Developing active adult communities is very different from building traditional communities, and their development poses a whole set of new challenges. Some of the things that those in the active adult community business must carefully consider are financing and risks, economic impacts, and government regulations, as well as marketing and market factors. While traditional builders must focus on these areas as well, the challenges faced by those involved in creating active adult communities are somewhat different.
One of the difficulties that those in the active adult community business face is upfront costs. Because one of the goals is to entice buyers with a particular lifestyle, certain amenities must be in place from the very beginning. This huge initial expense prevents many developers from becoming involved with active adult communities. For example, a larger sized community may include golf as one of its amenities, which means that the golf course must be in place on the front end. As a rule, smaller communities are easier and less riskier to finance. But even developers of small communities face risk. No matter what the developer's investment, major risks in active adult community development include interest rate fluctuations and economic downturns as well as supply and demand variables.
One of the great things about active adult communities is that they are economically friendly to local governments. One hundred single-family, active adult community homes in a city have the potential to create significant revenue for the city in both income and taxes, and also to create a number of new jobs. Furthermore, active adult communities bring active and involved adults to the community, of a demographic that generally don't burden public services in the same way that other demographics do. In addition, active adult communities are welcomed by cities because they don't add children to the school system, which is one of the largest burdens that traditional residential communities impose. An active adult community can bring so many benefits to a community that developers often put together proposals that outline the positive effects they will have on the local economy.
Developers of active adult retirement communities must be careful to research and comply with all government regulations, including zoning restrictions. Developers should also be aware that opposition from the community is often an issue. While some people oppose any kind of development in general, other communities don't want active adult communities because they're afraid that older residents won't support taxes that fund the public schools.
One of the largest differences between traditional housing communities and active adult communities is the market. In a nutshell, people who prefer to live in these latter communities are typically age 55 or older and are financially secure and married. Most people who buy residences in active adult communities are interested in the type of lifestyle the community promises rather than because they need an immediate place to live. Because of all these factors, developers must market active adult communities so that they are appealing to this demographic, paying particular attention to the amenities and services provided in addition to the actual homes themselves.
This 2001 survey of new-home buyers in age-restricted, active adult communities provides home builders and community developers with some helpful insights into the demographics and preferences of active adult home buyers, while this 2012 article published by Senior Housing News discusses the current state of the active adult housing market.
---
The Active Adult Community Business
Related Images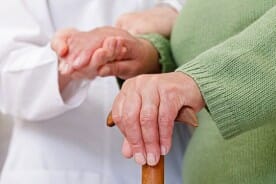 Caring For An Elderly Person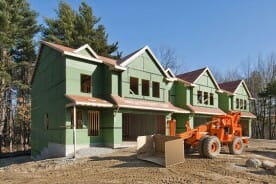 Affordable Housing Construction Project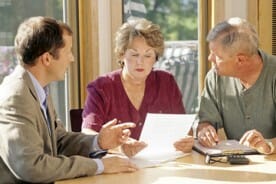 Sales Agent Meeting With A Senior Couple